The Phoenix Metro Seller's market has returned which of course means good news and bad news. We just need to first answer the question, "Are you buying or selling?" And if neither, keep reading anyway because it will help give you a lead-in to a conversation besides "Isn't it great weather we're having lately?"  Now you can say, "Have you heard how the residential real estate market has been heating up?
How has it been heating up Mike? Since last quarter:
Active listings are down by 6%
Under Contract listings are up by 29% and Pending Sales are up by 28%
Sales have increased 40% (8255 vs 5171)
Monthly Listing Supply Dropped from 5.5 to 3.1 (39% decrease)
Pending Price Per Square Ft (PSF) rose from $131 PSF to $137 (5% increase)
Monthly Sales PSF rose from $131 to $136 (4% in one quarter)
First the good news for owners/sellers:
Prices are rising hence equity is increasing
Inventory is shrinking, Market Times are Decreasing
Underwater homeowners may soon be above water – Choices may emerge
Refinance options may be back on the table – Interest rates remain low
Caveat: All Real Estate is local — the Seller's Market news is not for everyone — yet
Now the bad news for 'on the fence' and future buyers:
With rising prices you will get less house for the money or;
Paying more for the same type house gets you a higher payment
With less inventory you will have less choice, with more competition
Your rents are rising or it may be getting a little too cozy living with family
Caveat: All Real Estate is local – In some areas it's still a buyer's market – for now
Is there good news still for buyers? Absolutely! There are communities that are still in a buyer's market realm, and even if you're looking in a hot area you can still do well with a good buyer strategy. Also, mortgage rates are still low. Unfortunately, the window in that vein is closing.
HomeSmart Opens New World Headquarters in Scottsdale
            HomeSmart Realty is preparing the opening of its new 66,000 SqFt World Headquarters in Scottsdale within the 101 loop near Princess Drive and Frank Lloyd Wright (pictured below). The recent acquisition by CEO Matt Widdows will become HomeSmart's new corporate location having just vacated the current location at 32nd St and Camelback.  HomeSmart will still have a presence on Camelback, opening up a new office there as well.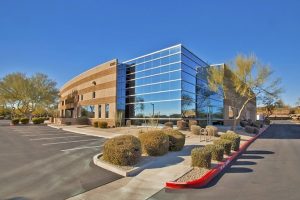 The office will be split between the corporate side and the sales agents' side. Having already been a leader of innovation and technology, we're excited about having the latest and greatest available for the benefit of our clients. Jonathan, and I will be relocating to the new location when the office remodeling is complete – we hope shortly.
Along with the Camelback location there are 10 other offices in the Valley. One of the great perks of our business is that HomeSmart lets each professional use any office facility in the Valley as if it's our own 24/7 utilizing a pass card.